$117,000 Roulette Challenge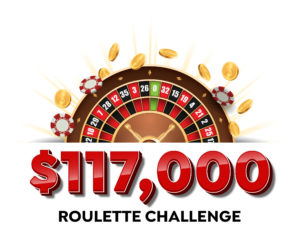 Sundays, June 6, 20, & 27 | 11AM – 5PM
Every half-hour, 3 drawn guests will play a special game of roulette to win $100 – $1,000 Prairie Cash!
Roulette Game:
The game will be played with a standard roulette table located on the casino floor. Drawn guests will each receive two tokens, unique in color. Drawn guests must put their first token on the betting mat on any number from 1 -36 and their second token on either the even, odd, red, or black betting option.
If the guests does not have the ball land in any of their bets, the guest will win a consolation prize of $100 Prairie Cash. If a guest has a winning color or parity bet and no not win their number bet, they will win $250 Prairie Cash. If the ball lands on the green 0 or green 00, all three guests will win $500 Prairie Cash. Guests who have a winning number bet will receive $1,000 Prairie Cash. Guests who win both their number bet and their color or parity bet will receive $1,000 Prairie Cash.
*Guests must have their Players card inserted into a slot machine or have a rating open with the table games in order to be drawn. Guests must be at least 21 years old to enter.