$34K New Year Jackpot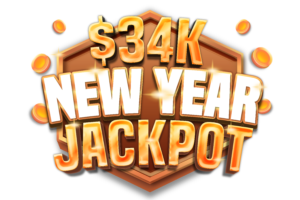 Friday, December 1 – Monday, January 1
Guests may swipe their Players card one time per calendar day at any kiosk to receive drawing tickets based on tier from December 1 at 5AM – January 1 at 3:59PM.
Guests will receive an additional 10 drawing tickets for every 10 points earned with their Players card.
Guests with a valid email address will receive a bonus drawing ticket offer. (Limit 1 bonus offer per guest)
On Monday, January 1, guests must swipe their Players card at any kiosk from 10AM – 3:59PM to activate drawing tickets based on tier.
Every 30 minutes from 11AM-3:30PM, two guests will be drawn to receive $500 Prairie Cash.
At 4PM, one guest will win $24,000 CASH!
At 4:30PM, one Inferno cardholder will receive $250 Prairie Cash and one Fire EAgle cardholder will receive $500 Prairie Cash.*
*Cardholders must have their Players card inserted into a slot machine or have a rating open with Table Games or Bingo in order to be drawn.