Night of 101 Winners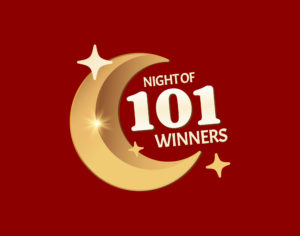 Saturday, December 30 | 12PM-10PM
Hotseat Drawings
Every half-hour from 12PM-9:30PM, five guests will each receive $200 Prairie Cash.*
*Guests must have their Players card inserted into a slot machine or have an open rating with Table Games or Bingo in order to be drawn.
Kiosk Drawings
At 10PM, one guest will be drawn to receive $10,000 Cash!**
**Guests must swipe their Players card at the kiosk from 8:00PM to 9:59PM to activate drawing tickets based on tier. Drawing tickets will be virtual and accumulated on the guests' account through the kiosks.
Bonus tickets
Guests will receive ten drawing tickets for every ten points earned with their Players card from 5:00AM to 9:59PM on Saturday, December 30.