Rollin' Into $210,000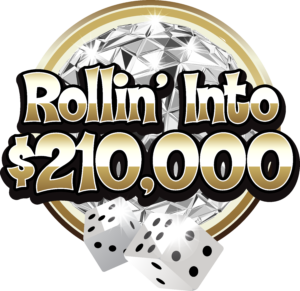 Sundays in January | 12PM – 4PM
Every half-hour, one guest will receive up to $10,000 Prairie Cash or $210,000!
*Guests may swipe their Players card one time per day at any kiosk to receive drawing tickets based on tier.
Bonus: Guests will receive 21 drawing tickets for every 21 points earned starting 5AM on January 1, 2021 to 3:59PM on January 31, 2021.
How to Play:
Every half-hour each drawn guest will roll one pair of dice to achieve a corresponding number on the game board
If the guest achieves an eligible number for that roll, they may roll again, moving up the game board to larger prize totals up to $210,000!
If the guest does not achieve an eligible number to move up the game board for that roll, the game is over and they will win the Prairie Cash amount won on the previous roll