---
Special Bingo Sessions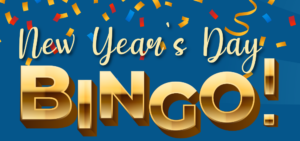 Friday, January 1
Mini Marathon
Doors: 11AM Session: 1PM – 3PM
20 Games for $24
Half Price Buy-In Packs
Doors 5PM, Minis 6PM, Regular Session 7PM
---
Bingo Specials
---
Wacky Wednesday
Buy In addition to regular buy-in options, purchase a wacky pack for a mix of Level 1 and Level 2 cards!

500 Bingo Half-Price
Friday
Doors: 5 PM | Mini Games: 6 PM | Regular Session 7 PM
• Half Price Buy In Pack
BIRTHDAY BONUS
Play during your birthday month to receive a free dauber and pick a Birthday Hot Ball for all regular session games. Bingo with the Birthday Hot Ball as the last number called and receive an additional $500! Hot Ball only pays once. Available one session during birthday month.
Voted BEST BINGO for three consecutive years! Thanks to all of our loyal players and newcomers alike who love to play BINGO with us and voted us the best in the area!
Come play a session on paper or an electronic device, charge your phone while you play, try some, Video Poker or 24# and enjoy a snack with a cold bottle of beer!