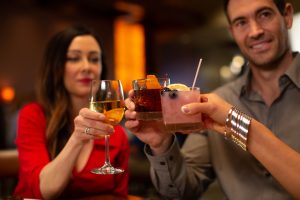 Stop by the Casino Bar for Happy Hour!
Monday – Thursday | 3PM – 7PM
Monday Features:  Import Beer Bottles: $4.25 | Margaritas:  $4.00
Tuesday Features:  Domestic Beer Bottles: $3.25
Wednesday Features: All glasses of wine:  $1.00 off | Bloody Mary: $1.00 off
Thursday Features:  All Craft Beer: $4.50
Crafted for you!  Introducing our private batch Imperial Lager (8.5% ABV 33.3 IBU)
brewed by Walnut River Brewing Company, LLC.  Enjoy our new craft beer!